Thank you to everyone who came to sing with us last Saturday, you all made such a difference – we hope you enjoyed it as much as we did – it was great fun!
We hope you all enjoy your summer break and see you all again in September ready to sing again.
Our new term begins on Tuesday 10th September 2019.
WE

REHEARSE

at the Witham United Reformed Church, CM8 1AH, from 7.45pm until 9.45pm every Tuesday in term time.
To find directions to the church where we rehearse click here
More details about joining the choir or becoming a Friend here
Our summer trip to visit Rainbow Rural is on Saturday 13th July, click on their logo to find their website with more details and directions
or search for their web address in your browser: https://www.rainbowrural.co.uk/
For 60 years the Society has grown progressively under the leadership of seven Music Directors, with Patrick McCarthy joining us in 1995. Each has contributed enthusiastically to the Society's musical life and development and, together with the warmth and passion for singing of the members, the Society has developed and maintained an integrity which has kept it in the fore of choral tradition in the area.
You can read about how Patrick stepped up to save the Prom at the Royal Albert Hall go to our Personnel Page(bottom right article) follow the link here to the page.
BACKGROUND

OF

WITHAM

CHORAL

:
The Society was formed in 1957. In the early years the members enjoyed singing madrigals and short choral pieces suitable for the small group, and occasionally joined with the Essex Musical Association and other societies, including the Ipswich Singers, to perform larger scale works. See a photo of the choir singing at the Public Hall in December 1974 by CLICKING HERE
SOME

OF

OUR

MOST

NOTABLE

CHORAL

CONTRIBUTIONS
have included a much praised performance of Elgar's Dream of Gerontius at the renowned Snape Maltings Concert Hall, when we combined with the Ipswich and Colchester Bach Choirs and the Colchester Philharmonic. In 2007 we celebrated our 50th Anniversary Year with a full programme of choral works. These included performances of the Verdi and Brahms Requiems and later in the year, in our exchange with the Evangelische Singgemeinde of Weinheim, two performances of Beethoven's Mass in C and Christ on the Mount of Olives.
Other works performed include Handel's Solomon and Israel in Egypt singing with the Ipswich Bach Choir & Dovercourt Choral Society, bringing together some 170 singers. As well as singing at Snape Maltings, we have appeared several times at the Harwich Festival, in G&S HMS Pinafore, Faure Requiem, Haydn Creation, Orf Carmina Burana and most recently peformed in a Last Night of the Proms.
Witham Choral Society is a registered charity No. 261704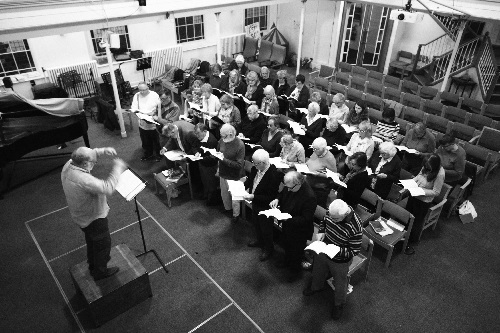 Next Concert
Saturday 15th June 2019
Witham United Reformed Church
7.30 pm
Music by Gilbert & Sullivan: Excerpts from Mikado and the Gondoliers!
Read our press release which begins: 'Gilbert & Sullivan success for Witham Choral'
'Witham Choral was delighted to welcome Angela Kilmartin, Chairman of Braintree District Council, as one of the soloists in the Gilbert & Sullivan Come and Sing on Saturday 15 June at Witham United Reformed Church.' click here to read more.
Here are our lovely performers, see the full write-up to find out who they all are!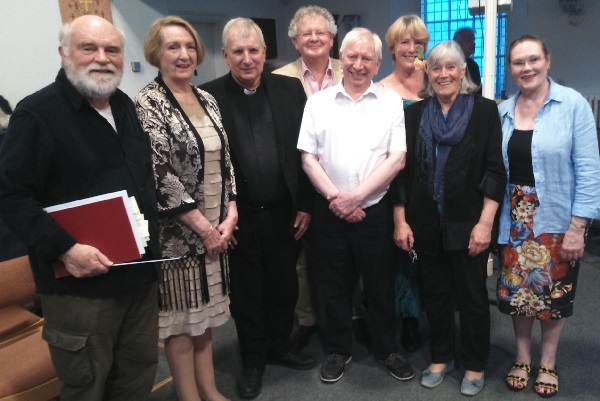 CHOIR

DIARY

2019:
Social visit to "Rainbow Rural", Saturday 13th July, 2.30-4.30pm. See what goes on at our chosen charity, who we supported at our Christmas Open Rehearsal
Committee Meeting at St Andrew, Hatfield Peverel Church Hall, Wednesday 21st August
Autumn term 2019, begins Tuesday 10th September
Next bring and buy: 3rd Tuesday of September, 17th, 7.45pm. Usually the 3rd Tuesday of the month. Last time we raised a fantastic £50 towards our concert costs.
Saturday 30th November, Concert at Witham

URC

Messiah Act 1 and Bach's Cantata 61 "Nun Komm der Heiden Heiland"
Tuesday 10th December, Christmas Open Carol Evening, with Charity Collection. Last rehearsal of the term.
Saturday 4th April, 2020, Spring Concert: Haydn's Creation at Witham Public Hall
PICTURE BELOW: in rehearsal at Witham URC
FIND

OUT

MORE

ABOUT

US:

Find more news about the choir on our Facebook page plus other items of interest in the world of making music. 'Like' us on Facebook or go to our facebook page by clicking here
Keeping up to date for choir members:
Go directly to our members page click here where you will find up to date news about the choir this term and links to rehearsal aids for the music.
FUNDRAISING

THIS

TERM

:

BRING & BUY STALL every third Tuesday of the month, very popular with our members, and if you are lucky there will be the famous flapjack available and other home-made goodies. Our last one raised £50 towards concert expenses: thank you everyone!

COFFEE BAR every week at half time during rehearsal, a chance to catch up with friends and have a chat before getting back to rehearsals. Make sure you sign up and help raise much-needed funds for the choir.

PENNIES FOR WITHAM CHORAL save any spare pennies and put them in the pot at rehearsal.
Luxury Coach Trips to the Royal Festival Hall & Barbican
We regularly go on fundraising concert trips to London, organised by Clare. These are principally to the Barbican and the Royal Festival Hall.
Book your places as soon as you can!
See the new list with the other dates for the 2019/20 season click here
The first concert of the new season is: ******SUNDAY OCTOBER 13th, RFH – PHILHARMONIA MATINEE*******
Conductor: Clemens Schuldt, SCHUMANN
Overture Manfred – Violin Augustin Hadelich MENDELSSOHN Violin Concerto
BEETHOVEN Symphony No 7
You will be very welcome to join us no need to be a member of the choir. Money raised helps to keep the choir singing and performing regularly with a professional orchestra.