Our Choir 2022
We're back!
Do keep in touch with us using our Facebook Page: Witham Choral Society to see what we are posting.
there is news about concerts and rehearsals, and things from Making Music, which may be of interest.
FAREWELL TO PATRICK & MARY
This year Patrick McCarthy retired from his role as conductor of the choir. His farewell concert was at Witham Public Hall on 2nd April 2022. This was lovely, after such a long wait due to Covid, we were able to perform the Creation to a good audience accompanied by Colchester Philharmonic Orchestra, It was a wonderful send off for both Patrick and Mary.
Patrick said that he felt that overall the concert went very well and that the choir excelled itself, the band played well and the soloists were excellent. We in the choir certainly enjoyed it.
Our thanks to Witham Mayor, Angela Kilmartin, for making the presentations to Patrick and Mary on our behalf and for her kind words as he retired as our conductor. We send thanks and good wishes from us all to Patrick and Mary, and look forward to performing together in our Gilbert & Sullivan concert in June.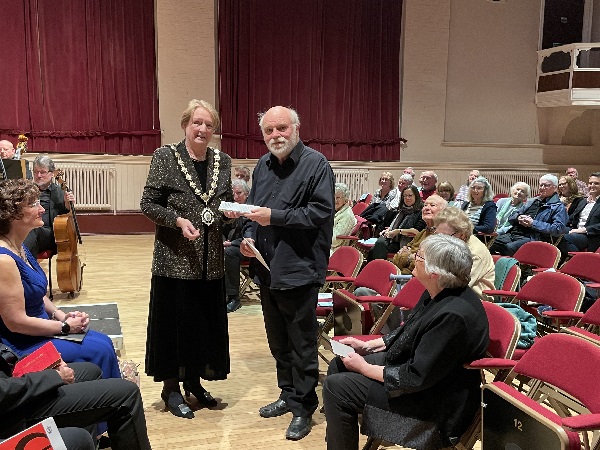 Patrick's farewell presentation by the Mayor of Witham 2022-23, Angela Kilmartin. Photo by Stuart Pinborough
In the news... Our 60th Anniversary
SEE OUR 60TH ANNIVERSARY LEAFLET: click on the link here: /perch/resources/1957-2017-leaflet.pdf
Article written when the choir were in their 60th year of music making…
Here are excerpts from our anniversary article in the Braintree & Witham Times: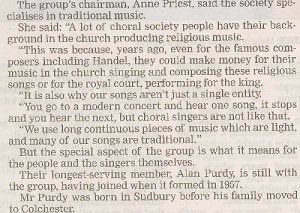 See the choir in 1974!
Local Historian, supporter and often singer with the choir, Janet Gyford has a photo from 1974 when Tom Langley was the Conductor. You can see it by following this link Click Here. If you can name anyone we are not sure about, do please get in touch and let us know!
Come and enjoy singing with us!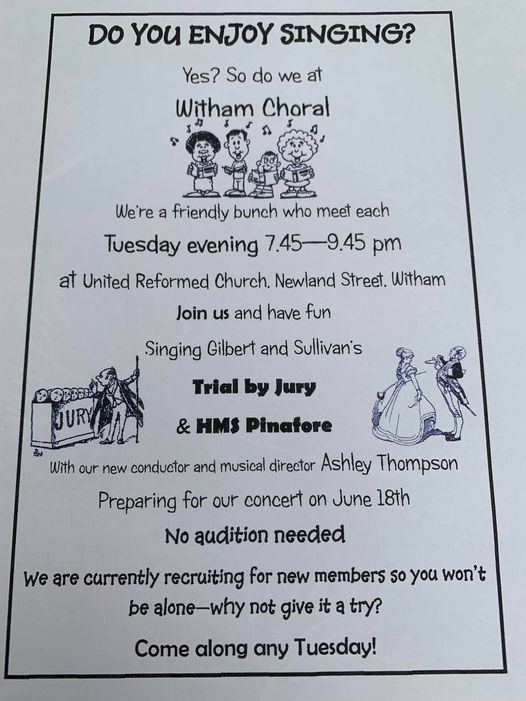 Tony Mortimer 1946-2021
We were sad to share with you all in the summer of 2021, the news of the loss of our dearest friend and accompanist, Tony Mortimer. He is greatly missed and fondly remembered for his great humour and skill.
A humorous moment shared between Patrick and Tony, good friends and colleagues.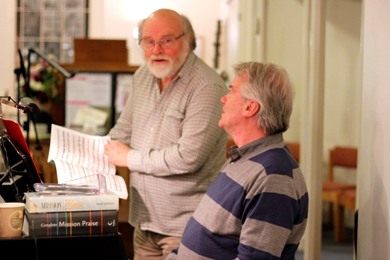 Tony Mortimer BA(Hons), Dip Mus, L.G.S.M., A.R.C.M.
After completing his music education in London and Birmingham, studying piano and organ, Tony embarked on a teaching career, becoming Head of music in several large Secondary Schools in East Anglia and Director of one of the first Performing Arts Colleges in Essex.
With his keen interest in musical theatre, Tony has directed many stage shows involving young people, and has written and published musicals designed for schools and youth theatres.
In addition to his role as rehearsal pianist for Witham Choral Society and piano teaching, he has worked extensively as a soloist and accompanist in a wide variety of musical genres, including jazz, theatre, chamber music and church services.
Celebrating 20 Years with Patrick at the helm
In 2015 we celebrated 20 years with Patrick as our conductor. The photographs were taken at Witham Public Hall with this lovely cake.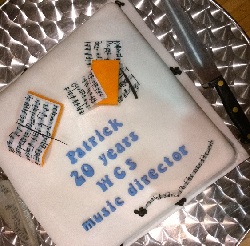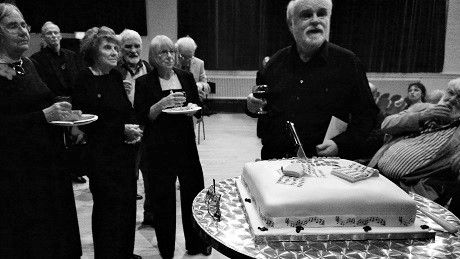 Social Events & Supporting local charities ...
Despite Covid 19 we were pleased that our Christmas Concert in went ahead. It was a lovely end to the year, finishing with our Christmas Carol evening, on Tuesday 10th December at Witham
URC

. We were honoured to have our Mayor at the time, Clare Lager, to speak about her chosen charities for her year – Citizens Advice and also collecting for young people's projects in Witham. Clare was delighted to hear that our collection for her charities raised a wonderful £257.55!
We held a trip to see one of Christmas charities Rainbow Rural in the summer 2019 to see what our money was used for following our Christmas Carol evening in 2018.
We had a lovely afternoon, see more photos on our Facebook Page:
A fabulous barge trip: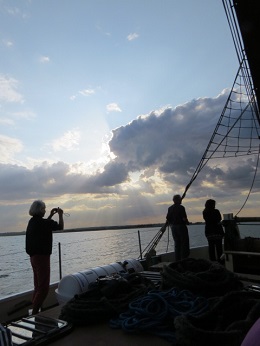 FUNDRAISING CONCERT TRIPS - THANK YOU TO CLARE LAGER
London Concert Trips – a thank you
For many years Clare Lager organised regular concert trips to the Barbican and the Royal Festival Hall and raised funds for the choir. We and past members are extremely grateful to her for all she has done over the years funding many wonderful soloists, paying for many of the musicians accompanying us and in so many ways improving the performance we have been able to give to our audiences.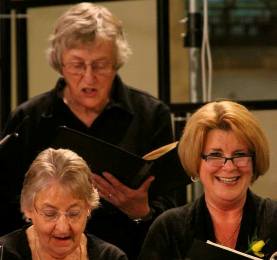 Patrick McCarthy, Director of Music, 1995-2022
Patrick has been a notable figure on the local area musical scene for over twenty years.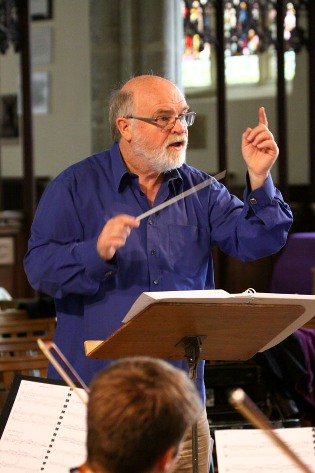 He was trained as a singer at the Guildhall School of Music and Drama and the London Opera Centre. His operatic and singing career has taken him all over the British Isles and Europe. Music lovers may remember his dramatic rescue of a Prom performance of Carmina Burrana back in 1974.
In the 2004/2005 season with WCS he conducted Elgar's Caractacus. This rarely performed work was a considerable challenge to both choir and orchestra and was sponsored and supported by The Elgar Society. The performance was much appreciated by those members of the Society who attended and received enthusiastic reviews from local press.
A highlight of 2006 was a concert at the renowned Snape Maltings Concert Hall, Aldeburgh, where Patrick conducted the combined forces of the Witham Choral Society, the Ipswich Bach Choir and the Colchester Philharmonic in a memorable performance of Elgar's Dream of Gerontius where it was reported that the choirs were truly magnificent and the success of the production was surely down to Patrick McCarthy. Local press review.