WELCOME

TO

OUR

SUMMER

TERM

:

This term we are rehearsing for our next Concert at Witham United Reformed Church in June. We begin on Tuesday 17th April – and it would be lovely to see some new faces – if you are wondering whether to come, why not give it a try? This time we are also inviting anyone to come along who would like to sing with us at the concert, but isn't a member of our choir. Just join us for two or three rehearsals before the concert and then come and sing!
WE

REHEARSE

at the Witham United Reformed Church, CM8 1AH, from 7.45pm until 9.45pm every Tuesday in term time.
If you would like to find out what our rehearsals are like you can come along without obligation to join and make yourself known to one of us as you arrive. Or, if you prefer that someone looks out for you, ring ahead and speak to our Chairman on 01245 380958, who will make sure that you are properly welcomed. To find directions to the church where we rehearse click here
QUIZ

NIGHT

,

MAY

18th – see details in right hand column on this page.
OUR

CONCERT

last March at the Public Hall -was a '

LAST

NIGHT

OF

THE

PROMS

' and was very well received. An enthusiastic concert-goer sent in a lovely write up about the Last Night of the Proms …
'Wow! What a great Last Night of the Proms concert on 11 March at Witham Public Hall. A near capacity audience who started the cheering after the first item – Zadok … read more here
Also, of interest you can read about how Patrick stepped up to save the Prom at the Royal Albert Hall on our Personnel Page (bottom right article) follow the link here to the page. The clip was featured last year on both 'The One Show' on BBC1 and a documentary on BBC4.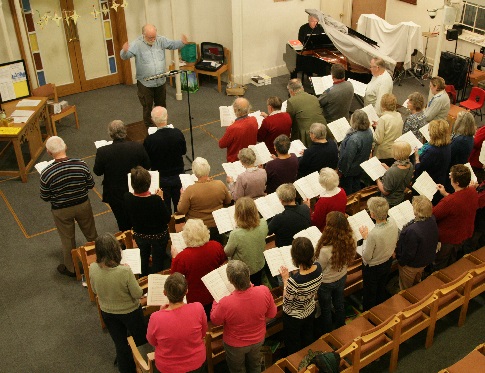 WE

HAVE

JUST

CELEBRATED

OUR

60TH

ANNIVERSARY
To celebrate we have put together an ANNIVERSARY LEAFLET CLICK ON THE LINK TO VIEW A COPY: /perch/resources/1957-2017-leaflet.pdf
Join in and post your memories on our Facebook page: /@WithamCS
For 60 years the Society has grown progressively under the leadership of seven Music Directors, with Patrick McCarthy joining us in 1995.
Each has contributed enthusiastically to the Society's musical life and development and, together with the warmth and passion for singing of the members, the Society has developed and maintained an integrity which has kept it in the fore of choral tradition in the area.
Take a look at a photo of the choir singing at the Public Hall in December 1974 To see the picture go to our News section by

CLICKING

HERE
BACKGROUND

OF

WITHAM

CHORAL

:
The Society was formed in 1957. In the early years the members enjoyed singing madrigals and short choral pieces suitable for the small group, and occasionally joined with the Essex Musical Association and other societies, including the Ipswich Singers, to perform larger scale works.
SOME

OF

OUR

MOST

NOTABLE

CHORAL

CONTRIBUTIONS
have included a much praised performance of Elgar's Dream of Gerontius at the renowned Snape Maltings Concert Hall, when we combined with the Ipswich and Colchester Bach Choirs and the Colchester Philharmonic. In 2007 we celebrated our 50th Anniversary Year with a full programme of choral works. These included performances of the Verdi and Brahms Requiems and later in the year, in our exchange with the Evangelische Singgemeinde of Weinheim, two performances of Beethoven's Mass in C and Christ on the Mount of Olives.
Other works performed include Handel's Solomon and Israel in Egypt singing with the Ipswich Bach Choir & Dovercourt Choral Society, bringing together some 170 singers. As well as singing at Snape Maltings, we have appeared several times at the Harwich Festival, in G&S HMS Pinafore, Faure Requiem, Haydn Creation, Orf Carmina Burana and most recently peformed in a Last Night of the Proms.
Witham Choral Society is a registered charity No. 261704